"Greetings, friends. This is J. C. Yoakum and you're listening to Hymn Time." If you had been a resident of Calhoun County, Georgia in the mid-1970's, you may have recognized these words and the familiar voice that spoke them.
Early in 1973, J. C. & Reba Yoakum made the decision to purchase air-time each week on the local 500 watt AM station, WCUG in Cuthbert, Georgia. With Reba doing the research and script-writing and J. C. the narration, they produced twenty-two, original half-hour broadcasts in their living room on an old reel-to-reel recorder, and aired the programs cyclically for the next three years.
Both Yoakums were natives of Mississippi and long-time Primitive Baptists. They were the first couple married by a newly ordained, seventeen year-old minister named Elder Joe Holder. It was my privilege to know them and enjoy their Christian fellowship for eleven years while I pastored a church in the area. Both are now at home with the Lord, but through the efforts they made to use their spiritual talents on a very local level, they continue minister to God's people through song, now with the potential of an even larger (even international) audience, these four decades later.
Br Yoakum was the song leader at Mars Hill Primitive Baptist Church and had played a strategic role in laboring to improve the quality of congregational hymn singing among Primitive Baptist churches in SW Georgia and SE Alabama. Both J. C. & Reba were "salt of the earth" kind of people. They lived to serve others.
It is probably important to highlight the fact, however, that they were not professional broadcasters. Those who listen to these digitized recordings of the original "Hymn Time" recordings with a critical ear may find occasion for criticism. At times, one may hear a large truck pass by the house on the highway. The technical quality of recording is typical of the technology that existed in the early 1970's.
Although these recordings may not measure up to the professional standards of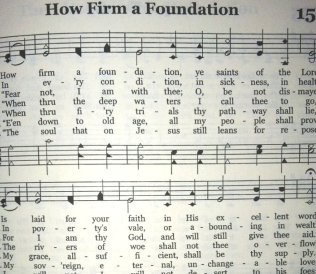 a culture that frequently values style over substance, yet I am confident that they will be of immense devotional value to common folk who love the Lord and the great hymns of the faith. It is evident that Br Yoakum was utterly sincere…and humble…and genuine. I suspect that the further you listen, the more you will 'fall in love' with this dear man, and catch the spirit of his infectious love for these old hymns. These recordings are intended to be a resource for those who enjoy spending several moments in quiet fellowship with God each day. Such folk, I am confident, will benefit greatly from the "Hymn Time" recordings.

Br & Sis Yoakum wanted to serve the Lord by serving his people. I think they would be thrilled today to know that the effort they made on such a local level some forty-odd years ago is now available to humble souls in many distant places across the globe.
– Michael L. Gowens (2012)
Hymn Time #1
Hymn Time #2
Hymn Time #3
Hymn Time #4
Hymn Time #5
Hymn Time #6
Hymn Time #7
Hymn Time #8
Hymn Time #9
Hymn Time #10
Hymn Time #11
Hymn Time #12
Hymn Time #13
Hymn Time #14
Hymn Time #15
Hymn Time #16
Hymn Time #17
Hymn Time #18
Hymn Time #19
Hymn Time #20
Hymn Time #21
Hymn Time #22